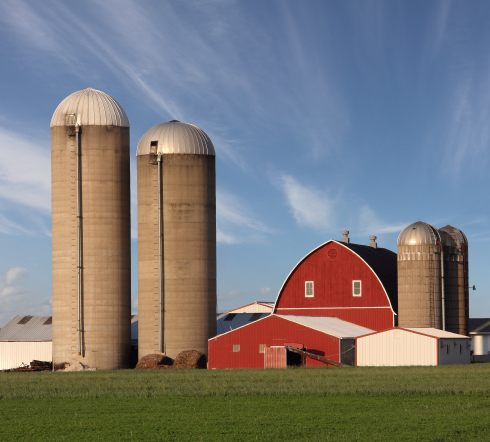 Farm Insurance Fort Wayne, New Haven, Bluffton, Decatur, Portland, IN, and the Surrounding Areas
Your farm isn't just your home — it's your livelihood. Whether your farm is large or small, discover how to protect your land and all its assets with our insurance policies.
Learn More
Request a Quote
Agribusiness Insurance in Bluffton, Decatur, Fort Wayne, New Haven, Portland, and the Surrounding Areas
Agriculture is an important part of our economy in Bluffton, Decatur, Fort Wayne, New Haven, Portland, and the surrounding areas. And agriculture is more than a field full of wheat or soybeans or a pasture with cows, it can include animal breeders, wine making, feed manufacturing, and more. All of these require different forms of agriculture insurance, and working with Bixler Insurance provides you with the ability to get multiple quotes from many different insurance companies. Agribusiness is a major industry and in order to make sure that you can continue your operations and provide education to your visitors, having the right agribusiness insurance is crucial. Contact our team today to learn more.
Safeguarding Farms and Crops: The Importance of Agriculture Insurance
Agriculture insurance, usually referred to as farm insurance, is really a set of insurance policies that address different aspects of an agriculture business. If your farm has livestock, such as cows or chickens, then you need to have insurance to protect against the loss of that livestock. In other cases you may have different crops, maybe corn or even grapes. Here again you need to protect these crops against loss that will impact your livelihood.
Along with the animals and crops that you have, there are buildings and other equipment that also need to be insured as they are very expensive to replace if they are damaged or stolen. Hail, high winds, vandalism, and theft are just a few of the events that are covered with your farm insurance. And don't forget that many agribusinesses offer tours of their facilities, and this means having liability insurance to protect against accidents.
Comprehensive Coverage: Exploring Agri-Farm Insurance Solutions
Dairy farms, equipment dealers, animal boarding facilities, aquaculture, crop spraying, and many more agriculture related businesses all need to have the right agri-farm insurance options in place. This insurance will be specific for each business's needs depending on the type of crop being grown, the kind of animals that are on the farm, the different vehicles being used on the farm from small quads to large combines, and more. This is where it is important to work with an independent insurance agency to get the best insurance options for your farm insurance.
There are hundreds of different agribusinesses in and around Bluffton, Decatur, Fort Wayne, New Haven, Portland, and the surrounding areas. What works for one farm will not work for another, which is why it is important to work with a knowledgeable and independent insurance agency like Bixler Insurance. Talk with our team to review your agribusiness as well as your farm insurance policies to be sure you have the best coverage.
Farm Property
On any farm there is likely many hundreds of thousands of dollars of equipment, if not more, and this equipment is very hard to replace unless it is insured. Tractors, balers, wagons, and many more items are expensive and costly to repair. And then there are the various fertilizers that crop-growing farmers would have to help ensure good yields. And this just scratches the surface.
If your farm also has livestock you will want to have coverage for these animals. They might be used on the farm to help with activities, or you may have livestock that you use for products such as wool from sheep. Then of course there are the buildings on the property, such as the barn for livestock, buildings to house the equipment you run, and more.
It is also important that your farm insurance include liability insurance coverage. This is even more important if you provide tours of your farm or have areas of your property that are used for corn mazes, apple orchards, or other activities that involve the general public. Crops should also have insurance protection from natural disasters such as a tornado or damaging hail.
Get a Quote for Farm Insurance
A farm requires a lot of attention and there are always things to take care of. Don't let those tasks take you away from the important task of making sure that you have the right farm insurance in place for your farm in Bluffton, Fort Wayne, New Haven, Portland, Decatur, IN, and the surrounding areas. We can provide you with a quote for your farm insurance, just provide us a little information on our website about you and your farm and we will get back with you to provide details. Bixler Insurance will shop the market for you as an independent insurance agency to get you the best farm insurance to fit your needs. Contact us today to learn more.
Contact An Agent
Or call for immediate assistance.