Spring Maintenance Checklist for Homeowners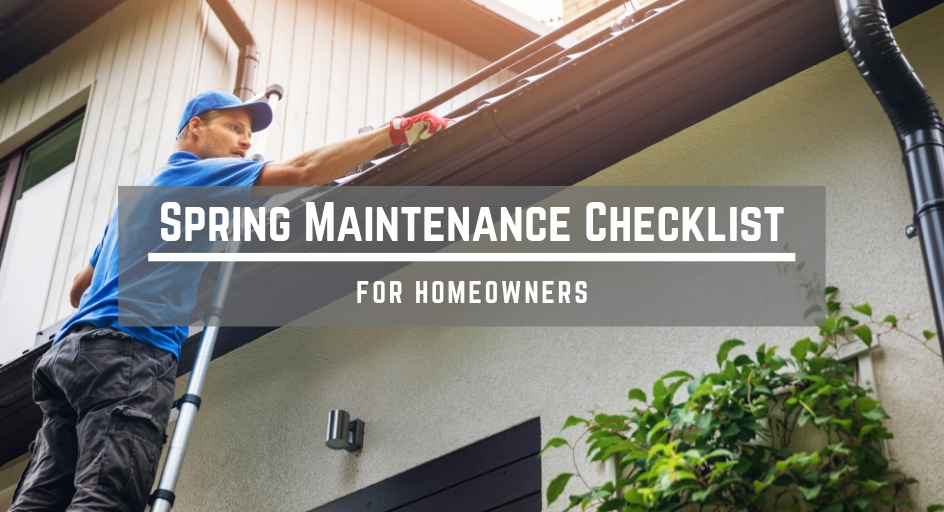 Winter can be tough on a home. Snow, ice, wind, rain and freezing temperatures can all place stress on your home's structure. Now that Spring is here, it's time to start taking stock of any needed repairs or updates to get your home back in top shape. Here are a few of the things you should be doing and looking for:
Check windows and doors for broken or damaged frames, hinges, or locks.

Inspect window or door screens for rips and have them repaired to prevent insects entering your home.

Have your roof professionally inspected. Pooling water or hail damage can cause failures in the material and structure of your roof, but you may not even know unless you have an inspection.

Look for cracks in your driveway. Water from heavy rain or snow can cause cracking in concrete, and you may want to get your driveway resealed to prevent further damage.

Clean leaves and debris from your gutters and downspouts, or have a professional clean them if you are unable or uncomfortable. This is a basic maintenance task but one that is essential to the upkeep of your home.

Inspect your fences for loose or rotten panels, and replace them promptly.

Have a deck? If so, you'll need to pressure wash and reseal it on a regular basis. Many experts recommend doing this every few years, depending on the intensity of the weather in your area.

Test run sprinklers and outdoor faucets to ensure all systems are operational. If the water flow seems low, there may be an issue with the pipes.

Remove debris from on and around your air conditioning unit to ensure maximum efficiency.
Homeowners Insurance Can Protect Your Home
The best way you can protect your home is with homeowners insurance. As part of your spring maintenance, check in with your insurance agent to make sure you have the right coverage for your needs.